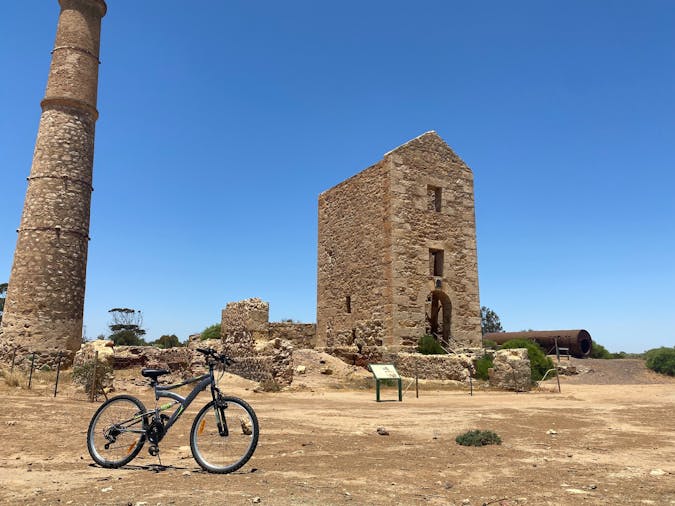 Copper Trails Bike Hire
Price from $20.00
Overview
Explore the beautiful Copper Coast townships of Moonta, Moonta Bay, Port Hughes, Kadina and Wallaroo.

Choose from a selection of adult Milano E-Bikes (Electric Bikes), Universal bikes, Tandem, Children's and a character Vintage ladies bike. All bikes are available to hire half day (4 hours) or take advantage of our great rates for a full day (8 hours). Included in every hire is a helmet, lock, carry bag or basket and a bottle of water.

Experience the Copper Coast heritage areas of Moonta and Moonta Mines, visiting the Old Railways station, Hughes Engine house and the Old Sweet Shop.

A leisurely ride to Moonta Bay taking in the views whilst visiting the Splashdown Waterpark or walking along the Moonta Bay foreshore.

Travel along the bike paths to Port Hughes and swim in South Beach or stroll along the jetty and have fish and chips on the lawned areas.

Explore Kadina and the various shops in the town centre or visit the 6 suburbs that make-up this township.

Travel along the dedicated bike track from Kadina to Wallaroo and have lunch at the Bond Store Brewery and Distillery or ride around the Wallaroo Marina.
Price
From $ 20.00 to $ 75.00
E-Bikes: $15 hourly; $50 (4hrs); $75 (8hrs) Universal: $10 hourly; $25 (4hrs); $40 (8hrs) Tandem: $20 hourly; $45 (4hrs); $75 (8hrs) Children's: $10 hourly; $25 (4hrs); $40 (8hrs) (Minimum 2 hour hire charge) We can deliver bikes to or pick-up from Wallaroo and/or Kadina for $10.