Matthew Glaetzer on overcoming cancer to compete in the Olympics

AUSTRALIAN track sprint gun Matt Glaetzer can currently push 470kgs with one leg, and by the time the Olympics rolls around he is hoping to hit 500kgs - equal to the weight of a 1975 Fiat 500.
The 28-year-old South Australian, towering at 190cm, is healthily thriving after he was diagnosed with thyroid cancer in October 2019, but "remission" is a word he is yet to hear from medicos.
"I have wondered about that, things are looking good and all the blood levels are looking good,'' Glaezter said ahead of his first appearance at the Gepps Cross SuperDrome since January 2020 at the Adelaide Track League.
"So no new thyroid tissue has been growing back but I haven't been given the all clear or that I'm in remission or something like that.
"I'm kicking on as normal and taking my pills every day."
Glaetzer is a two-time track world champion, having won gold in the team sprint at Melbourne 2012 and in the men's sprint in 2018 in Apeldoorn, the Netherlands.
He's also won three Commonwealth golds, two in the keirin in Glasgow in 2014 and at his home Games on the Gold Coast in 2018, where he also won the 1km time trial.
The Australian competed at the Rio Olympic Games in 2016, narrowly missing out on medals after finishing fourth in both the men's sprint and men's team sprint.
Now Glaetzer's incredible will to being super strong for the Tokyo Games this year after the COVID pandemic forced a postponement last year is taking shape.
With a rare appearance in front of an audience at the Australian track team's home base on January 19, Glaetzer has plans to be the strongest he has ever been before the Games.
He says he spends about 50 percent of his training on the track and the other 50 percent in the gym where his program is gradually building him to being at the top of the sporting summit come July - when the Olympics are scheduled to be held.
After a calf tear kept him out of action for three weeks where he could barely walk last February, Glaetzer is keen to keep on top of what he can control.
"For me, the next month is to bulletproof my body,'' Glaetzer said.
"Getting the load in the body in the gym and having everything working as it should.
"All the rehab stuff keeping my calf strong after that healed and it's to reach new strength levels from there.
"We're going to be pushing some big numbers in the gym and really essentially going for PB's (personal bests) in each area, we're set up to do that and then leads into all the performances come the Olympics."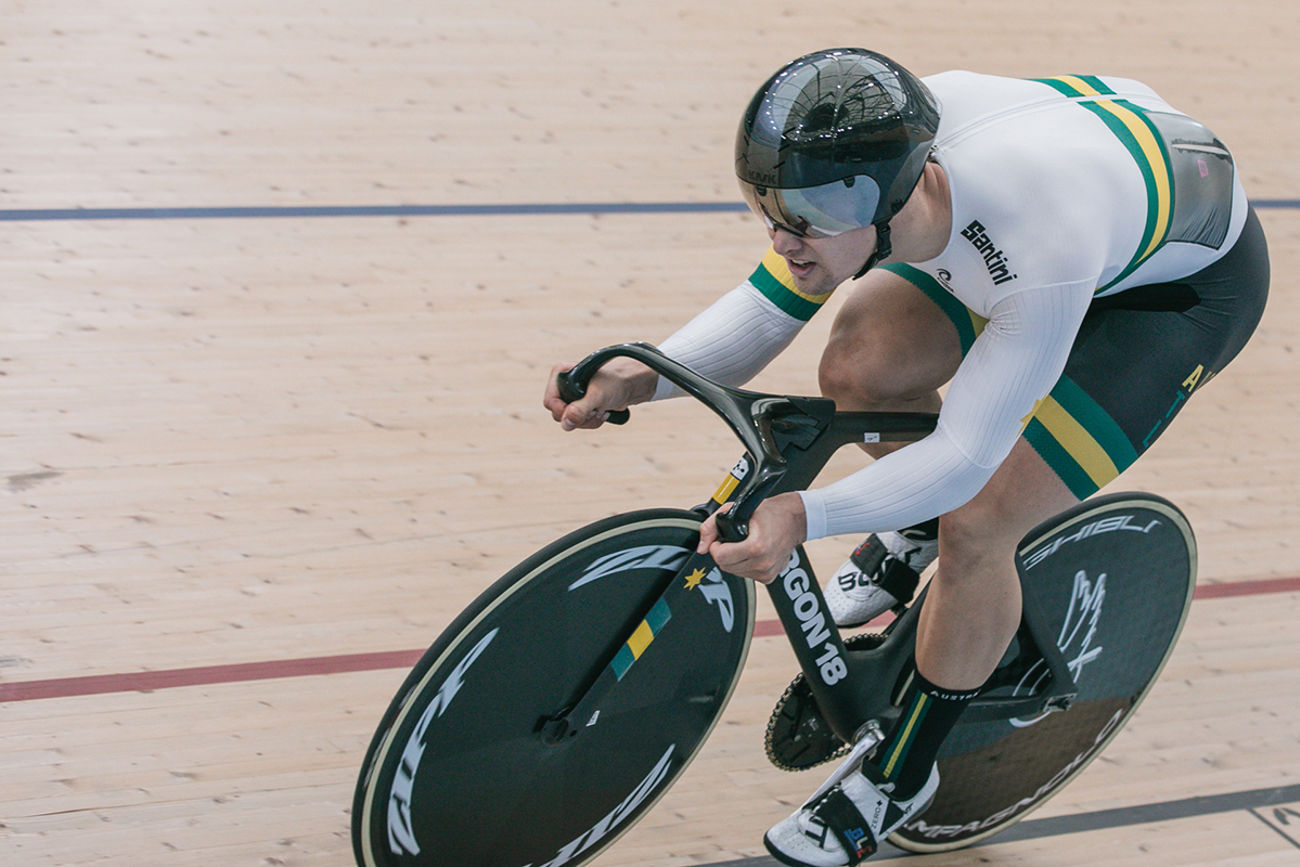 "I'm now pushing 470kgs for one leg, almost half a car with one leg.
"My goal this year is to hit 500kgs.
"The leg press is for strength and power, so it's a critical part of what we do and it's not balance related so we can go hard with the loads."
Glaezter is also forever grateful to the support staff after his shock cancer discovery in 2019.
A sore neck which wouldn't go away after he was pressing more than 300kgs with one leg in the gym led to a series of tests which fast tracked immediate medical help.
The South Australian had a thyroidectomy and neck dissection and started a course of radioactive iodine tablets.
He returned to training three days after surgery.
His first race post treatment saw him rewarded with a bronze medal in the men's keirin at the UCI Track World Cup in Cambridge, New Zealand just four weeks after being diagnosed with cancer in December 2019.
"The pain of the discomfort wasn't related to me having thyroid cancer whatsoever,'' Glaetzer said.
"It because of these check-ups that I found it.
"I'm very thankful, it was the best strained neck I have ever had in my life.
"The diagnosis was pretty rough and obviously a shock to hear you've got the big c (cancer) in your life.
I'm in the prime of my life, fit, healthy and strong and all of a sudden I had something which was quite serious and needed to be dealt with straight away.
"It wasn't easy for a bit.
"But we worked through it and it was a chance to reset too.
"My support staff who were so diligent in looking at the details.
"They just made sure, because if they didn't it would be a very different story."
Now just three weeks into the new season track program Glaetzer is aiming to turn it on for track starved fans.
They have been craving to watch the Australian track team in live action after Glaetzer last year enjoyed the concept of the Adelaide Track League.
"I really like the Adelaide Track League, it gets people involved more regularly but as a national squad we don't participate in it too often we just train through and put our head down until the next international meetings,'' Glaetzer said.
"But now it's a great opportunity to race in front of a home crowd.
We don't get that opportunity that often because our major races are overseas, it will be a bit of fun.
"For fans who haven't seen our sport it's a great opportunity and also for those who want to see what we're capable off in our Olympic year it will be great.
For more info on the Adelaide Track League on Tuesday 19 January, click here.