Santos Tour Down Under race director Stuart O'Grady is inspired by the brutal Giro D'Italia, revealing he is on a reconnaissance mission for next year's WorldTour race.
The two-time Tour Down Under champion's estimated 200,000 plus km of official road racing throughout his brilliant career makes O'Grady an ideal candidate to design stages that he knows the peloton would mostly love.
"I have been spending lots of time thinking and watching the race and see the Giro finishing up the middle of a dirt road in the middle of nowhere,'' O'Grady said from McLaren Vale during the Giro's rest day after 10 smashing stages of racing in Italy.
"I'm not going to be that cruel to the guys in my first year.
"There's certainly an inspiration for the future, to have a bit of fun with it.
"To come up with some different stuff for the fans, to get out with different climbs, different roads."
"I've been playing around with a couple of stages, trying to design a few exciting changes to the race.
"It has been a certain way for a while, I just want to make it a bit different.
"I have worked it all out on the computer and now I'm at McLaren Vale and I'm trying to work it in well with the race plan.
"There is an obvious strategy for the overall race which I think I know how the race will pan out.
"It's just about getting down here and putting all the pieces of the jigsaw puzzle together and making sure that they work."
The 2007 Paris-Roubaix champion will not only ensure 2022 Santos Tour Down Under will be unique in his first sole year in charge of the WorldTour race.
He will later test the course first hand - on a race bike.  
"I'll go out and ride (the course) myself, I'll put the bike in the boot of the car,'' O'Grady said.
"Each stage there has to be something exciting, it might be an attacking point or a really tricky windy section.
"With my experience on the bike, I can picture what's going to happen in my head.
"I'll try and make the finales really exciting."
While O'Grady would rather be in Italy, close to WorldTour teams and riders he would invite to South Australia in 2022, his pre-race predictions are at this stage of the Giro, near perfect.
O'Grady predicted Caleb Ewan from Lotto Soudal would win stages.
He also forecasts that Bike Exchange's Simon Yates would be near the top of the GC and Team DSM's Jai Hindley would be a marked man after finishing second overall at the 2020 Giro.
However, Ewan who won stages 5 and 7 of the race and was leading the points classification has come under fire from road racing legend Eddie Merckx for abandoning the Giro during stage 8.
Ewan posted on Twitter, "Thanks to all the people sending nice 'get well soon' messages. 
"I've done some stuff with my positioning to help the knee pain I've felt since the start of stage 8. 
"Once it's completely gone, I'll resume my training to prepare for the Tour (de France).
"To the people who think I've disrespected the race, I'm sorry you feel that way. 
"If you saw the hard work and dedication I've put into my preparation to honour this race and perform at my best, I'm sure you wouldn't think the same. 
"I'm more disappointed than anyone."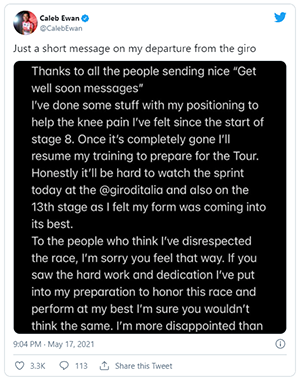 Five-time Giro winner Merckx, a guest of the Santos Tour Down Under in 2012 wasn't impressed.
"That Caleb Ewan also bothers me enormously,'' Merckx wrote in a column for Het Nieuwsblad on Monday.
"I find his statement a total lack of professionalism and lack of respect for the Giro and the sport of cycling. 
"He deserves a sanction: take away all the bonuses. 
"Former Tour boss Félix Lévitan would have said: "you won't be at this race next year."
O'Grady says nothing more can be asked of Ewan as he now looks to recover from a knee injury to prepare for the Tour de France from June 26.  
"He has done a fantastic job,'' O'Grady said.
"He's come in with a mission to win a stage and you know he's won two stages which are fantastic.
"But if he's got a legitimate injury and you saw the weather conditions they are absolutely horrendous, it doesn't look like fun at all, it's been a really intense start to the Giro.
"Things have been messy out there.
"I wish him all the best, he's won stages, what more can we ask from him?"
Australia's team Bike Exchange is sitting currently second in the team rankings with Great Britain's Yates ninth in the GC and teammate Nick Schultz 20th.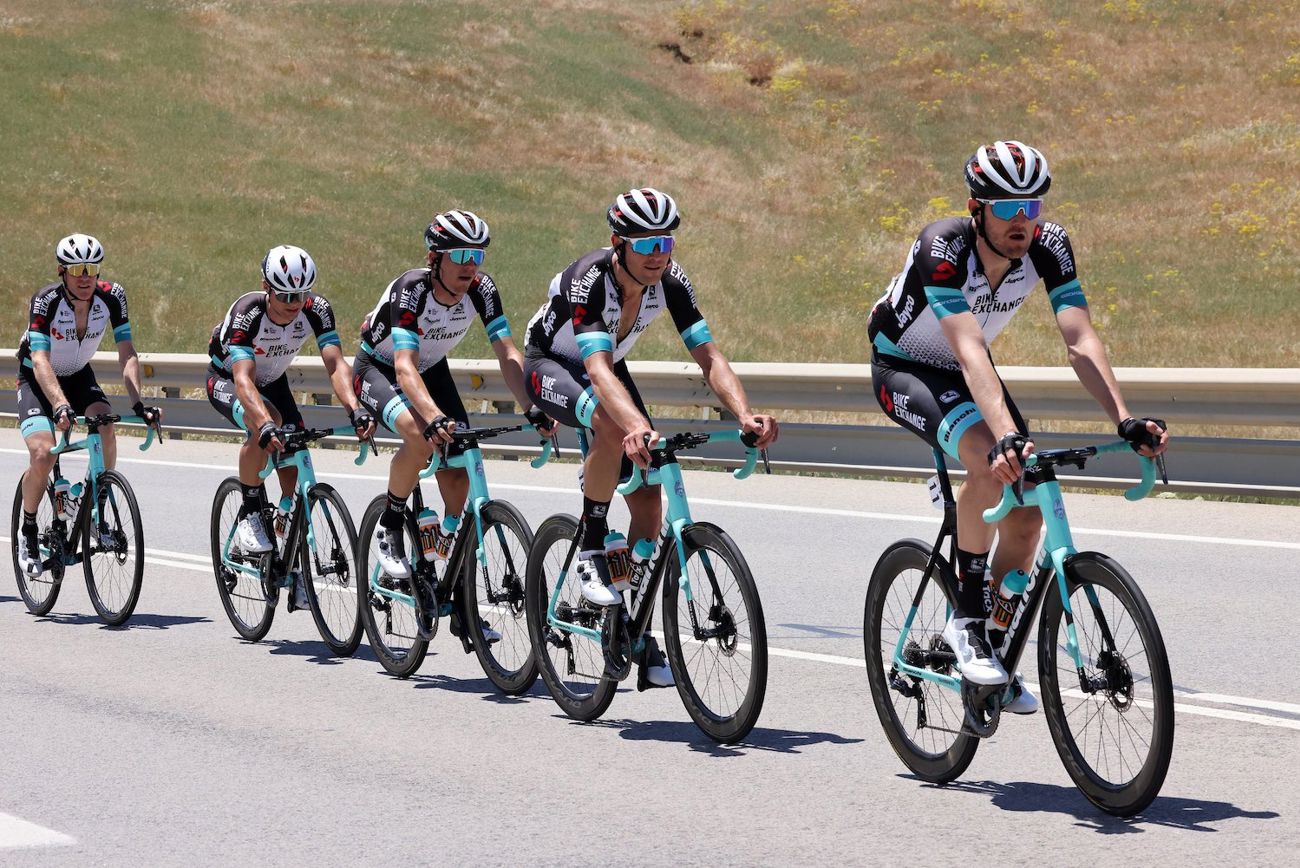 Schultz is the best performing Australian so far - 2 min 31 sec - behind race leader Egan Bernal which has pleased O'Grady.
After the team car was involved in a crash with Belgian rider Pieter Serry which saw sports director Gene Bates expelled and Bike Exchange fined, the Australian UCIWorld Tour outfit had settled after the stage 6 mishap.
Serry recovered from the incident and has continued to race, while Bates apologised after speaking to the Belgian.
"It's been crazy watching the stages, the UCI has gone about increasing riders safety and you see some of the finishes and they're coming into places which aren't designed for bike races to come into,'' O'Grady said.
"It's not a small domestic race, it's a Grand Tour, the guys are bombing into these towns and everyone is designing traffic furniture to try and slow them down.
"It's been crazy, dangerous out there."
However, O'Grady believes Yates in an ideal position to snare the pink jersey at the right time.
He was also very happy that Yates had Schultz close by.
"It's really good Yates has learned his lesson, in my opinion, it's not good to have the pink jersey now, it's just too hard,'' O'Grady said.
"We've seen teams trying to control the race but they just get decimated in the last couple of days of the race.   
"You might just limit all of your resources, there are some really big hard stages ahead.
"For me personally I'd want to be within striking distance but riding in the shadows not wasting any more energy going to podium presentations doing media, medical controls, all those one-percenters add up at the end of a three-week tour.
"The Giro looks nasty and the weather after the first week makes it even nastier.
"But (Yates) being in the shadows, in the top 10 and you can afford to be a couple of minutes down (at this stage of the race).
"This isn't a race that's going to be won by a second, it's going to be won by a minute.
"Schultz will be a really important piece of the puzzle for Bike Exchange.
"He has had a fantastic race but also it gives Yates a lot of confidence that there is another teammate climbing with you.
"There'll be certain points in the future where Yates will have support and put a bit of pressure on at a certain moment or maybe do a little sly attack on a downhill and burn up your teammates.
"It's great to see Bike Exchange has a really good solid team, they've come with one mission and that's to win the Giro.
"They're not going for stage win sprints and that's a really key point."
O'Grady said Hindley from Team DSM who finished a surprising second at the Giro last year would find the Giro tougher this year.
He was pipped at the GC post when he was wearing the pink jersey during the final stage, O'Grady believes the Australian is still well within reach of causing a major upset.
Hindley is currently 22nd in the GC, 4 min 28 sec behind Bernal.
"Jai has got plenty of time but has certainly come in as a known factor for this race,'' O'Grady said.
"This is a huge difference.
"Last year, people would have hardly heard of him and he was thrust into the spotlight at the end of the race and everyone is thinking "gee where did this guy come from?"
"All of a sudden you've got a reputation to uphold, the pressure of the team and the sponsors and as much as they say there's no pressure, there is always pressure.
"You put a lot of that pressure on yourself.
"He hasn't had the greatest of starts but the weather and the conditions, there can be so many factors in that.
"Again I'd prefer to be a couple of minutes behind, there's going to be plenty of opportunities for him to get in breaks and claw those minutes back."
O'Grady was also super impressed by superstar Peter Sagan's performance during stage 10.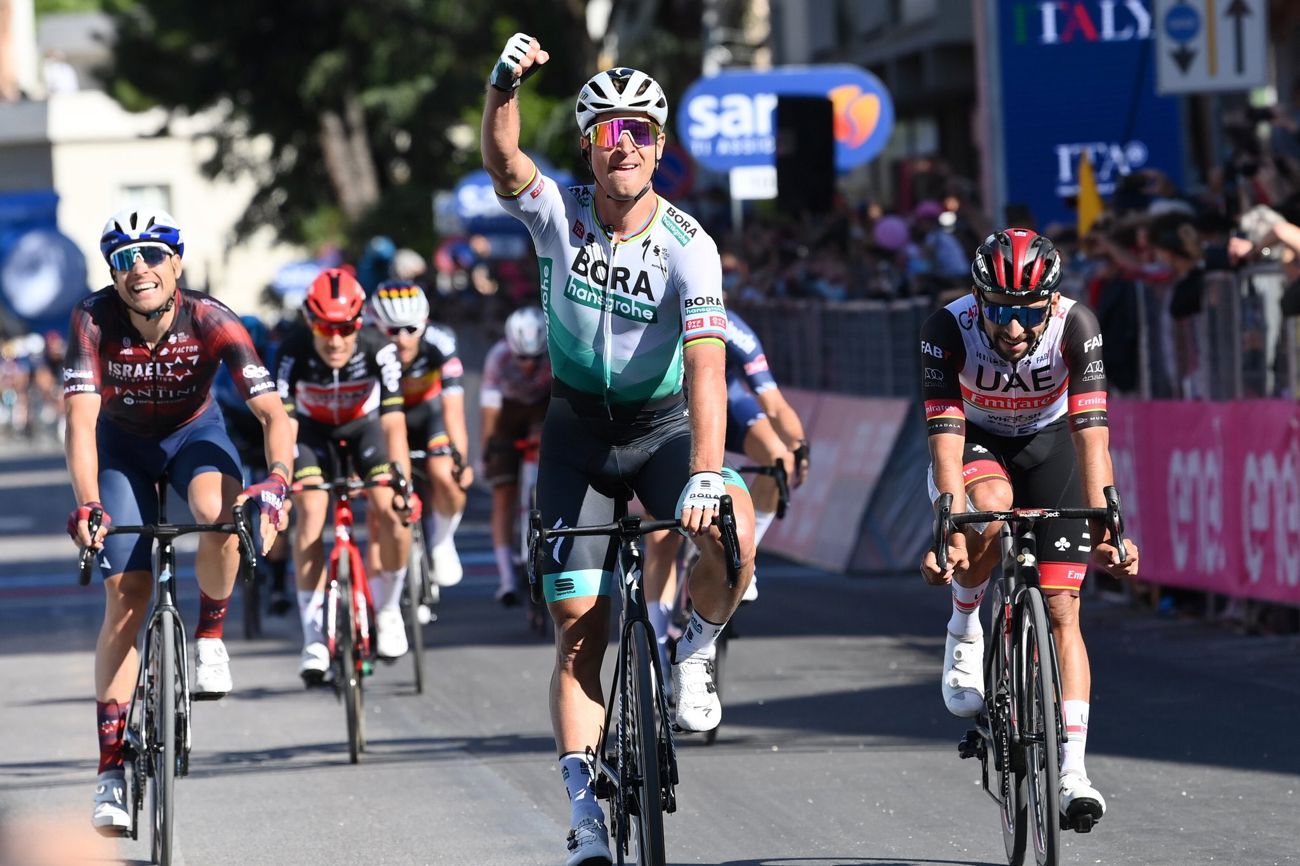 The Slovakian raced at the Santos Tour Down Under four times, winning two stages before claiming a stage win at the Giro on Monday.
Sagan according to the Giro D'Italia's official statistics for the stage win, had an average speed of  71 km/h for 17 minutes in the final sprint, a maximum 73.3km/h speed and had an average power of 1200 watts which blew out to an incredible 1410 watts maximum power.
"He is a gun, a legend of our sport,'' O'Grady said.
"I know there was a bit of media about his team manager saying "they're going to move him on."
"I think that's just inspired him and he's come out thinking "hang on a minute, you can't forget about me like that," the guy is an absolute superstar.
"Hat's off to him for what he has done and kudos to him for winning a couple of races this year but obviously the Giro is a massive one for him."
With one more rest day on the horizon, O'Grady believes the final 11 stages of the Giro will be even more hectic than the first 10 stages.
"It's going to be brutal, the fatigue is already in the legs,'' he said.
"There is a lot of hardcore stages ahead and I think it's going to be a really painful place to be.
"From the couch, it's going to be a fantastic spectacle to unfold but for the riders, they're in for a brutal finale."
How the remaining Australians are positioned at the 2021 Giro D'Italia:
20th: Nick Schultz - Bike Exchange - 2 min 31 sec behind leader Egan Bernal
22: Jai Hindley - Team DSM - 4 min 28 sec
32: Michael Storer  - Team DSM - 17min 26 sec 
58: Patrick Bevin - Israel Start-Up Nation -  36 min 25 sec
69: Chris Hamilton - Team DSM -  45min 46 sec
74: Callum Scotson - Bike Exchange  - 47min 53 sec 
130: Cam Myer - Bike Exchange - 1hr 27 min 11 sec
151: Michael Hepburn - Bike Exchange - 1 hr 40 min 08 sec
- Written by Val Migliaccio