Stages in detail
Definitive elements of the race
New year, new energy
The Santos Tour Down Under is first on the international cycling calendar. That means fresh team line-ups, redesigned kit and the latest bikes – but also some new-season jitters. Riders will be eager to impress as they take to the road, with sport directors and experienced cyclists tasked with patrolling the nervous energy. Ziptrak Stage 1 of the women's race begins in Hahndorf and will be held on relatively flat roads before a sharp descent to the Campbelltown finish. There's no gradient in the neutral zone, meaning athletes can rip straight into racing when the flag drops.  
Our longest women's stage ever
Day two is sure to test the peloton. At 104.2 kilometres it sets a new length record for a Santos Tour Down Under women's stage, with 2079 metres of vertical in the mix. Glenelg – host of the event's first stage at UCI Women's WorldTour level in 2023 – welcomes all the fun once again. This day of racing will also feature laps through Stirling, offering plenty of great vantage points for fans keen to settle in for the afternoon.
A Tour Village start 
Our Tour Village in Adelaide's Victoria Square/Tarntanyangga is the heart of the Santos Tour Down Under – so it's only fitting it hosts a stage start too. The final day of women's racing on 14 January will cover spectacular terrain loved by local cyclists: coast, hills and then back towards the ocean before a huge finish. It's also taking place on a Sunday, so get your tribe together and support world-renowned riders as they roll out. 
First-time ascents – including Willunga
There's one climb synonymous with Australia's greatest cycling race: Willunga Hill. We've seen Richie Porte dominate on its slopes, and Sarah Gigante follow suit during the 2021 Santos Festival of Cycling. Now the UCI Women's WorldTour peloton has its turn. The stats are formidable, with 3.72 kilometres at just under seven per cent. Passionate fans lining the climb have always helped riders as they slog it out to the top. And in 2024 – with Willunga and general classification honours up for grabs – there's even more reason to enjoy the action live.  
Stage 3 will also see the women tackle a Windy Point ascent for the first time before heading south to Willunga. At just under 94 kilometres, it promises to shape a new chapter in Santos Tour Down Under history.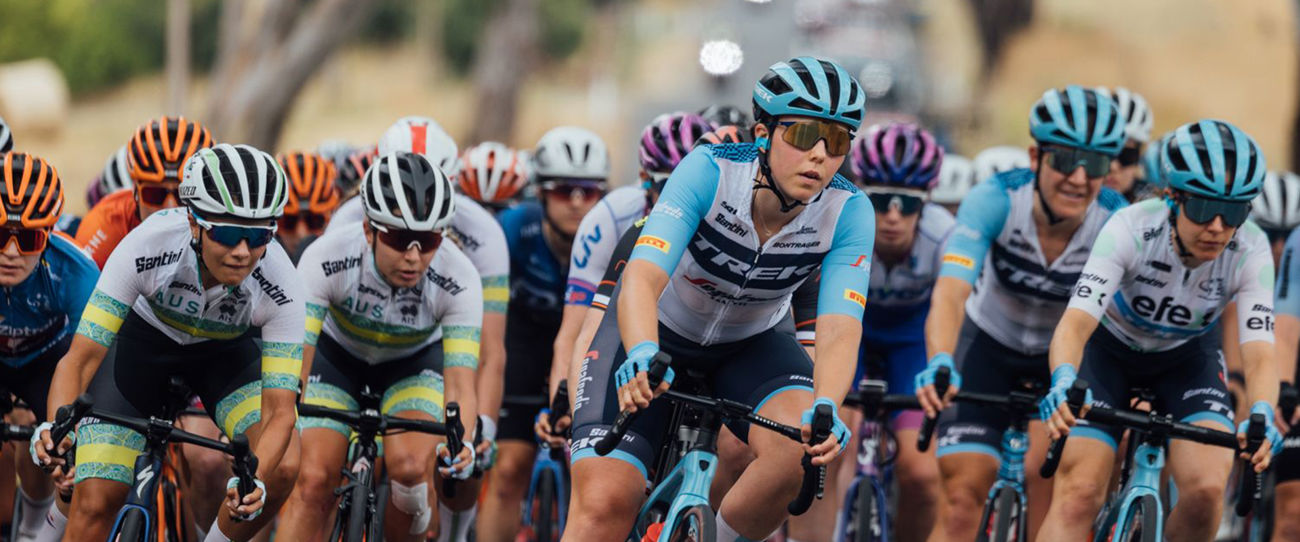 At a glance 
It's off to the Adelaide Hills for this first women's stage. Charming Hahndorf – Australia's oldest surviving German settlement – will host the start, with a relatively flat stage to follow. Riders' early-season nerves will be calmed across 93 kilometres, with 1483 metres of vertical and 1681 metres of descending on the agenda. The peloton is set to pass through Echunga, Balhannah, Woodside and Lobethal before navigating down the steep Gorge Road and lining up for the finish at Campbelltown's Fox Oval. 
Sprints
The day's first Ziptrak Sprint will take place near the Echunga Uniting Church at 10.1 kilometres into the stage. The second comes at Woodside, 47.4 kilometres in. Gather near the town's Bedford Hotel on Onkaparinga Valley Road to catch all the action.  

Climbs
efex Queen of the Mountain points will be earned on two climbs during this stage. The first takes place on Echunga's Hawthorn Road after 27.7 kilometres of racing. This 1718-metre category three ascent has a maximum gradient of 10 per cent. It will be followed by the category four Kenton Valley climb in Lobethal, which extends across 2948 metres and will appear at the 56.1-kilometre mark. Its maximum gradient is 8.9 per cent.  

Finish
A steep Gorge Road descent will propel riders towards the finish line beside Campbelltown's Foxfield Oval. And while a bunch sprint looks likely, this opening stage does offer some launch-pads for general classification contenders seeking glory.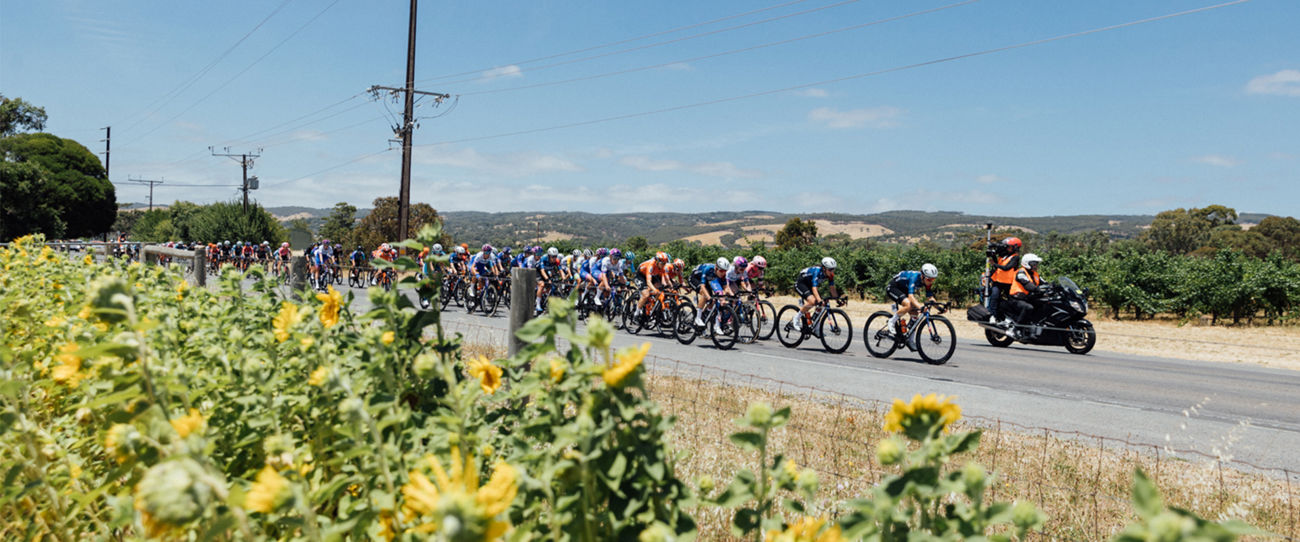 At a glance
Beachside Glenelg is hosting a women's stage start for the second consecutive year. Riders will travel down Jetty Road under race neutral conditions, with a climb in Cherry Gardens to offer the day's first big test. At 104.2 kilometres – and 2079 metres of climbing – this is the longest stage in Santos Tour Down Under women's race history. It will continue through the Adelaide Hills and culminate in two-and-a-half laps of a circuit through Stirling. Relax in the shade as the riders zip by.
Sprints 
Meadows will host the day's first Ziptrak sprint, set to take place 35.7 kilometres into the stage. Next is Mylor – with 53.4 kilometres complete – a point that will also launch riders into their circuit laps through Stirling.   
Climbs 
Don't let Cherry Gardens' pretty name fool you. Its category one climb – appearing at 12.4 kilometres into the stage – is sure to punish the peloton. The ascent covers almost three kilometres, with 15.6 per cent its maximum gradient. Queen of the Mountain points will also be earned in Stirling as the peloton crosses the stage finish line before tackling a final circuit lap.   
Finish
Stirling is no stranger to Santos Tour Down Under excitement, and its leafy streetscapes mean it's also a great spot to enjoy the action. The varied terrain of Stage 2, which finishes beside Stirling Oval, will make it enticing to all-rounders. It's likely we'll see a change in overall leader once points are tallied.  
Head back into Adelaide after Stage 2 finishes to see the men in action on the Classic city circuit.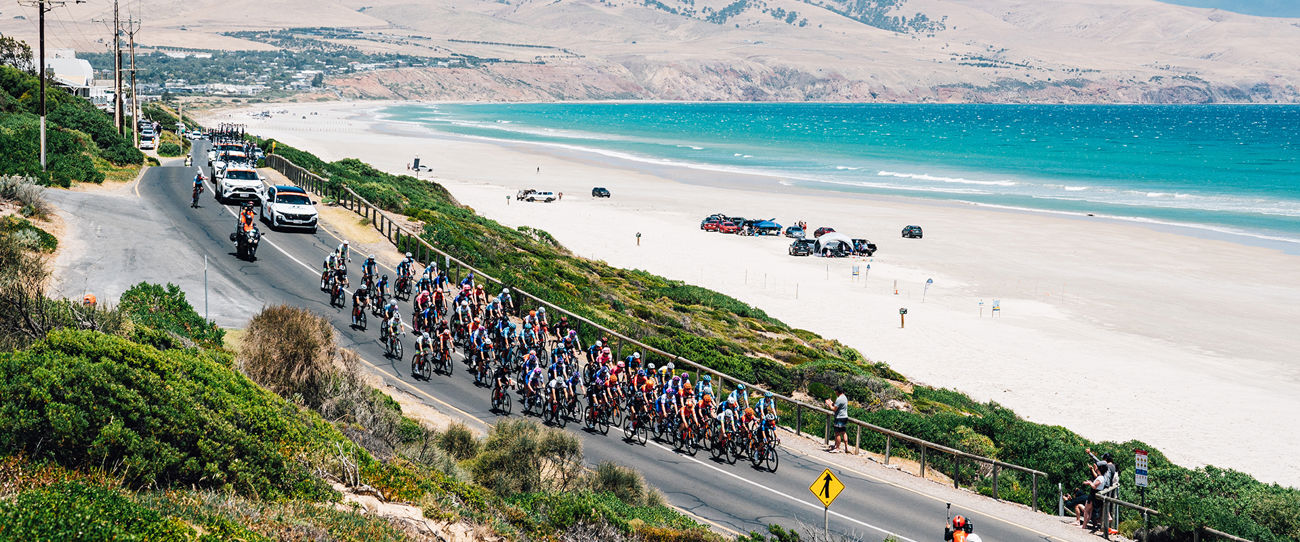 At a glance
Nintey three kilometres stand between riders and overall victory. This stage is set to lead the peloton from the Santos Tour Down Under Tour Village and towards the coast – but not before a leg-burning Windy Point ascent and a technical section of terrain beyond Belair. Ziptrak Stage 1 of the women's race favours sprinters, while all-rounders are set to impress on Stage 2. Anything is possible on Stage 3, which will finish atop the fabled Willunga Hill. Who has the strength to conquer it? 
Sprints
The day's first Ziptrak Sprint will be contested outside the Willunga Show Hall, 49.1 kilometres into the stage, while the second follows at Aldinga's Snapper Point once the riders have covered 66.8 kilometres. Expect beautiful coastal vistas as the peloton sweeps through.     
Climbs
Shut up legs! This stage begins and ends with category one climbs. The first comes at Windy Point, just 3.8 kilometres into racing, an ascent that extends over 3.8 kilometres and reaches a brutal 20 per cent gradient. The climbers' final test is Willunga Hill. We almost know its stats by heart: three kilometres, 15.6 per cent maximum gradient. Only an epic effort will seal victory.  

Finish 
You've seen the footage: Richie Porte winning on Willunga not once but six times, plus a seventh during the Santos Festival of Cycling – an event that also saw newcomer Sarah Gigante conquer its slopes. The big question is whether the woman who crosses the line first on this stage will also claim general classification honours. It could come down to the wire.